History
[
]
Built by Focke-Wulf at Sorau,[3], and assigned to Neustadt Glewe, Germany, during April 1945, 150168 was allocated to Ofw. Willi Reschke,[4] who used it to shoot down two Yak 9s during a combat over Berlin during the end of April.[5]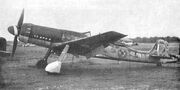 Following it's capture by Allied forces, 150168 was allocated it's initial RAF code, before it was dismantled and transported to the Royal Aircraft Establishment at Farnborough, in the hold of an Arado Ar 232B.[7] After bring re-assembled and repainted in RAF Markings, 150168 was flown to Brize Norton by Captain Eric M. Brown,[N 3] before being placed in storage.
On 22 October 1945, Brown brought 150168 back to Farnborough, to allow it's inclusion in the static park at the Exhibition of German Aircraft and Equipment,[9] only for it to be scrapped there in 1946.[10]
Notes
[
]
↑ During this flight, Brown took the opportunity to make a direct comparison between the TA 152 and the Spitfire XIX.[8]
Sources
[
]