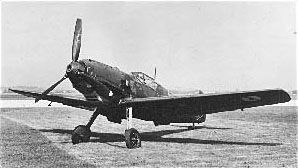 Werk Nr 1304 was a Messerschmitt Bf 109E-3.
History
Operated by 1/JG 76 as White 14, 1304 forced landed at Woerth, in the Bas-Rhin Department on 22 November 1939, and was seized by the French. After protracted flight trials in France, the aircraft was loaned to the Royal Aircraft Establishment at Farnborough in May 1940,[2] receiving serial AE479.[3]
One of the tests involved AE479 being flown in mock combat against a Spitfire fitted with a Rotol constant speed propeller. The report was published in July 1940.[2]
In May 1942 AE479 was passed to the United States.[3] The aircraft's subsequent history is currently unknown
References