History
[
]
Flown by Stab I./JG1 (acting) Gruppenkommandeur Oblt. Karl-Emil Demuth in April 1945, and then by 3./JG1 squadron commander (Staffelkapitän) Oblt. Karl-Emil Demuth in May 1945. [1] Operated as aircraft 11[N 2][2] 120074 was captured at Leck, and designated Air Min 60.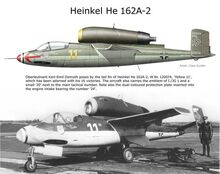 The aircraft was scrapped at RAF Brize Norton,[3] after being struck off charge in August 1947.[2]
Notes
[
]
↑ Original caption: He 162A-2, Werknr. 120074, gelbe 11, Maschine des Staffelkapitäns Oblt. Emil Demuth 3./JG 1, Mai 1945, Bugfarben SchwarzJWeiß/Rot weisen auf den Träger des Deutschen Kreuzes in Gold hin (die 16 am Leitwerk markierten Siege hatte er aber auf anderen Typen erzielt).
Translation: He 162A-2, no. 120074, yellow 11, machine of the relay captain Oblt. Emil Demuth 3./JG 1, May 1945, bow colors SchwarzjWeiß / red point to the bearer of the German cross in gold (the 16 marked on the tail of the turf, however, he had achieved on other types)
↑

There is some uncertainty about the colour of the numbers - they are yellow in some images of the aircraft, and white in others.
Sources
[
]