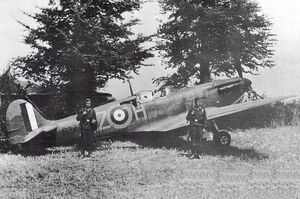 N3277 was a Supermarine Spitfire Mk I.
History
Built as part of a September 1938 order for 200 Spitfires,[2] N3277 was flown for the first time on 5 January 1940. After being passed to 24 Maintenance Unit on 16 January, the aircraft was assigned to 234 Squadron on 15 April,[3] receiving squadron code AZ-H.[4]
On 15 August 1940 N3277, flown by Pilot Officer Richard Hardy, was attacked by Messerschmitt Bf 109s of JG 53[5] and damaged while near the Isle of White.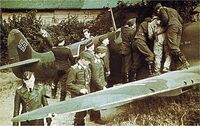 After making a forced landing in Cherbourg, France, Pilot Officer Hardy became a Prisoner of War,[3] while N3277 was quickly repaired, repainted in Luftwaffe markings, and sent to Germany for evaluation,[5] which included the fitting of a Daimler Benz engine.[3]
The final fate of N3277 in unrecorded.
References