m

Line 1:
Line 1:
 
+

[[File:CapturedCorsairartistsimpression-profile.jpg|thumb|400px|Artist Impression of captured Corsair.<ref name="FAA Archive F4U">[http://www.fleetairarmarchive.net/aircraft/Corsair.htm Fleet Air Arm Archive - F4U Corsair]</ref>]]

 
+
 

'''BuNo 56187''' was a [[:Category:Chance Vought F4U Corsair|Chance-Vought F4U-1A Corsair II]]<ref>[http://www.joebaugher.com/navy_serials/thirdseries6.html US Navy Serials]</ref>

 

'''BuNo 56187''' was a [[:Category:Chance Vought F4U Corsair|Chance-Vought F4U-1A Corsair II]]<ref>[http://www.joebaugher.com/navy_serials/thirdseries6.html US Navy Serials]</ref>

 
 
 

==History==

 

==History==

−

First Delivered to the Royal Navy in November 1943, joining 732 Sdn at Brunswick, USA,<ref>[http://www.ww2aircraft.net/forum/old-threads/germany-capture-f4u-1a-145.html WW2 Aircraft net]</ref> becoming JT404.<ref name="FAA Archive F4U">[http://www.fleetairarmarchive.net/aircraft/Corsair.htm Fleet Air Arm Archive - F4U Corsair]</ref>

+

First Delivered to the Royal Navy in November 1943, joining 732 Sdn at Brunswick, USA,<ref>[http://www.ww2aircraft.net/forum/old-threads/germany-capture-f4u-1a-145.html WW2 Aircraft net]</ref> becoming JT404.<ref name="FAA Archive F4U"/>

 
 
−

While involved in an anti-submarine patrol from HMS Formidable, as part of 1841 Squadron, JT404 was enroute to Scapa after Operation Mascot against the German Battleship Tirpitz, in company with Barracuda of Wing Leader Lt Cdr RS Baker-Falkner, when it was forced to make an emergency landing in a field at Sorvag, Hameroy, near Bodo, Norway on 18 July 1944. The pilot, Lt Mattholie, became a POW, and the aircraft captured intact with no damage. {{#tag:ref|The German authorities made attempts to get the pilot to explain how to fold the wings so as to transport the aircraft to Narvik.|group="N"}}

+

While involved in an anti-submarine patrol from HMS Formidable, as part of 1841 Squadron, JT404 was enroute to Scapa after Operation Mascot against the German Battleship Tirpitz, in company with Barracuda of Wing Leader Lt Cdr RS Baker-Falkner, when it was forced to make an emergency landing in a field at Sorvag, Hameroy, near Bodo, Norway on 18 July 1944. The pilot, Lt Mattholie, became a POW, and the aircraft captured intact with no damage. {{#tag:ref|The German authorities made attempts to get the pilot to explain how to fold the wings so as to transport the aircraft to Narvik.|group="N"}}

 
 
 

The aircraft was ferried by boat for further investigation. It is not known if the Corsair was taken to Germany. This was probably the first Corsair captured by the Germans. Aircraft is listed at Rechlin for 1944 under repair.<ref name="FAA Archive Captured">[http://www.fleetairarmarchive.net/aircraft/FAACapturedAircraftHomepage.html Fleet Air Arm Archive - Captured Aircraft]</ref>

 

The aircraft was ferried by boat for further investigation. It is not known if the Corsair was taken to Germany. This was probably the first Corsair captured by the Germans. Aircraft is listed at Rechlin for 1944 under repair.<ref name="FAA Archive Captured">[http://www.fleetairarmarchive.net/aircraft/FAACapturedAircraftHomepage.html Fleet Air Arm Archive - Captured Aircraft]</ref>

Line 15:
Line 17:
 

[[Category:Chance Vought F4U Corsair]]

 

[[Category:Chance Vought F4U Corsair]]

 

[[Category:Individual Aircraft]]

 

[[Category:Individual Aircraft]]

−

[[Category:Needs Picture]]

 
---
Revision as of 11:34, 29 April 2014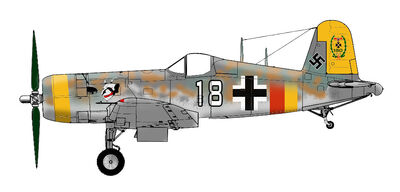 BuNo 56187 was a Chance-Vought F4U-1A Corsair II[2]
History
First Delivered to the Royal Navy in November 1943, joining 732 Sdn at Brunswick, USA,[3] becoming JT404.[1]
While involved in an anti-submarine patrol from HMS Formidable, as part of 1841 Squadron, JT404 was enroute to Scapa after Operation Mascot against the German Battleship Tirpitz, in company with Barracuda of Wing Leader Lt Cdr RS Baker-Falkner, when it was forced to make an emergency landing in a field at Sorvag, Hameroy, near Bodo, Norway on 18 July 1944. The pilot, Lt Mattholie, became a POW, and the aircraft was captured intact with no damage. [N 1]
The aircraft was ferried by boat for further investigation. It is not known if the Corsair was taken to Germany. This was probably the first Corsair captured by the Germans. Aircraft is listed at Rechlin for 1944 under repair.[4]
References
Notes
↑ The German authorities made attempts to get the pilot to explain how to fold the wings so as to transport the aircraft to Narvik.
Sources